Focusing on visuals is second nature for graphic designers and content professionals. After all, they understand better than anyone that humans love images.
We use imagery every minute of every day, be it visualizing, contemplating or planning. The subconscious mind deals with imagery strictly, and is therefore a powerful tool when it comes to coming up with ideas quickly and efficiently.
In the same vein, when marketers need to share data effectively, they turn to a trusted tool, modern infographics.
Today, infographics, and their many forms, are everywhere. In this guide, we'll explain what an infographic is, how they work, and how you can make one yourself.
What is an infographic?
The term "infographic" itself is the short version of the phrase "info graphic." Infographics help communicate complex and detailed information in a way that is easily digestible, in a visual format.
A well-constructed infographic uses images, data, and text to tell a concise and memorable story.
Infographics can help readers process a lot of information quickly. Readers have the benefit of being able to consume large amounts of data much faster than if they were reading a block of text.
Why you should use infographics
There are many reasons to use infographics in your SEO strategy, especially when you notice that:
They're easy to share: Long blocks of text and statistics are not only hard to read, they're less shareable than an infographic.
They are easy to read: simplifying the data through an infographic allows the reader to highlight the key message. And not only that, people receive your message so easily that it is easy to understand.
Friendly marketing: Although branding is not the main objective, a considerable benefit of infographics is their ability to highlight your brand and identity. A well-designed and attractive infographic helps to identify you as an expert and give a professional image in your field.
Condense content: Infographics condense articles, blogs, and reports into a manageable summary, with a visual "mirror" of the information.
How infographics work
There are two basic functions of infographics that share many similarities: static and interactive.
Static infographics, often created from a template , are the simplest solution to start with, especially when information and data remain relatively unchanged.
However, interactive infographics , despite being more complex in terms of programming and design difficulty, stand out from the rest because they seem to connect better with the target audience, as well as being more dynamic.
Interactive infographics give you the ability to provide your audience with data that is constantly up-to-date, while keeping the core of your story in the non-interactive parts of the infographic.
By pressing play buttons, watching videos, or listening to audio, the audience can connect more easily, and you can offer them more exhaustive details.
Designing an infographic
Choosing a layout for your infographic is directly connected to the type of information you want to communicate or clarify. The types of infographics that are most used are:
Lists: These types of infographics are made to be read in a certain order. It allows the reader to focus on the important details.
Comparisons: These infographics compare and contrast important topics. They are often used when a comparative study contrasts two similar topics.
Geographic: Provides you with a visual representation of regional data, such as census statistics, target markets, or weather events.
Statistics: These types of infographics use numbers and figures to highlight the main topic and can be used to guide the reader's attention.
Informative: they present concepts effectively and consistently, but do not contain data.
Data visualization: For large amounts of data, graphs and charts can convert the information into an easily digestible format.
Timeline: These infographics break down a story in historical order. When dates and events are important, you can use this type of infographic to make the information easier to read and follow.
Interactive: You can use this type of infographics to improve user engagement through the use of popups, questions, or video or audio players.
When you conceptualize your infographic, decide the best way to lay out your information in a digestible way. Are you going to need a map? Do you need it to be interactive? Do you need a piktochart or a line chart? These questions can help you better understand how to present your information to your audience.
How to create an infographic
Before you begin, make sure you are clear about the goal you intend to achieve by creating your infographic.
Identify the needs of your target group to understand the next step. If you can't communicate the goal in a sentence or two, then an infographic is not what you need.
Here are some tips on how to create an infographic:
find the idea
Once you've figured out the topic and purpose of your infographic, you can determine the questions you want your infographic to answer.
The main issue (also known as "the burning issue") is important, so don't be afraid to spend time getting it right. Your infographic should be the answer or present answers to your readers' queries with facts and visualizations.
You can use Semrush's Topic Research tool to find topic ideas that best resonate with your target audience.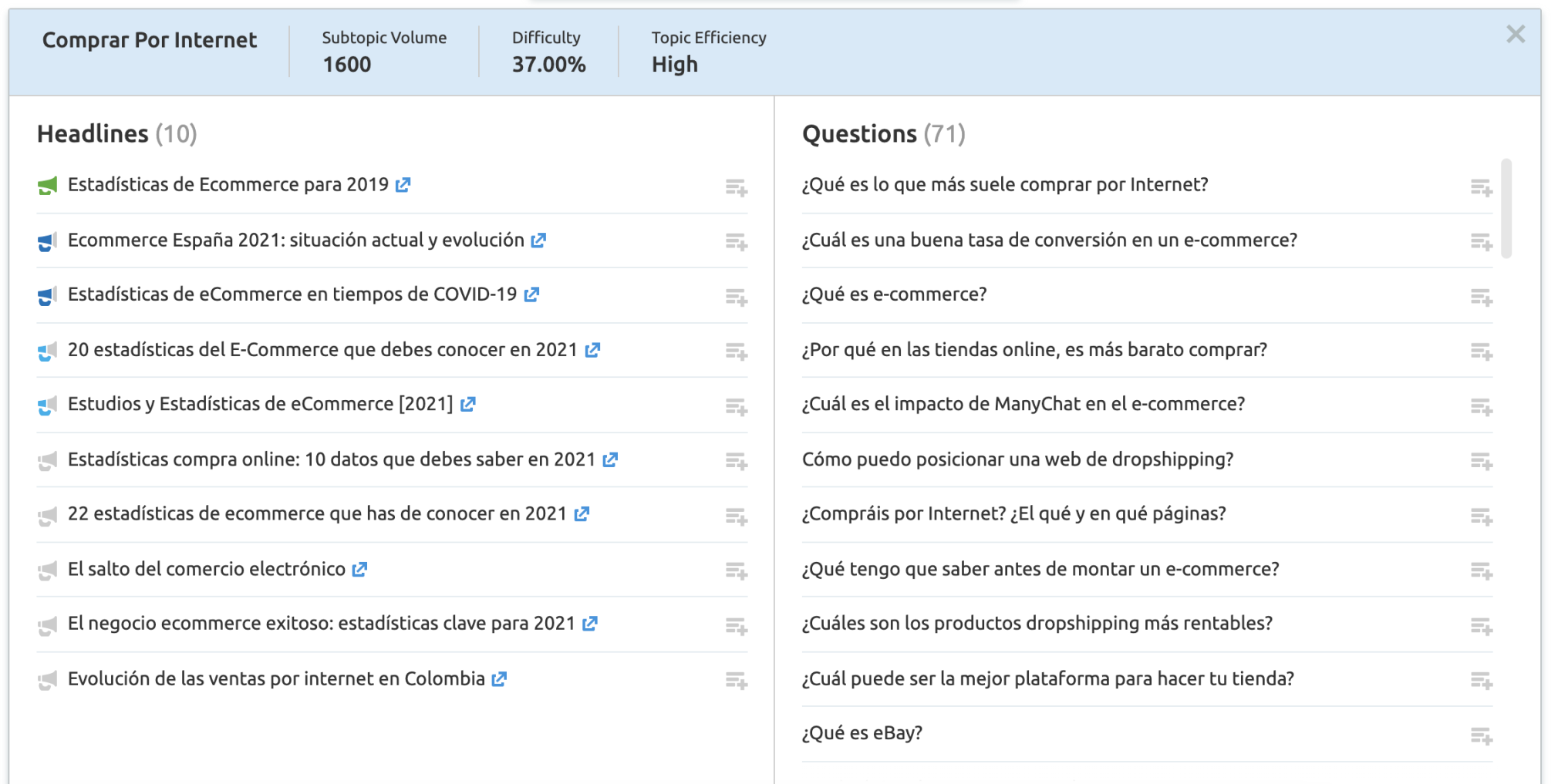 Choose the right design
Once you have chosen the type of infographic from the list above, choosing a suitable design depends above all on the nature of the questions and the most proposed answers.
Does your infographic have a data-driven intent or is it conceptual? Are you making an announcement or are you exploring possibilities?
Graphics, in all their formats, maps, timelines, lists, etc. It only matters that your layout fits what you're trying to achieve.
You can choose a template based on your design or from hundreds of examples available on the internet. There are also plenty of tutorials available to get you started.
The best tools to create an infographic
Canvas
Canva remains the most popular online design tool (for non-designers) that allows you to create content marketing formats, from presentations to ads to brochures and much more. Their infographic maker in particular comes in handy when it comes to creating an infographic.
Take advantage of its free and paid design elements, such as fonts, images, and design palettes.
google charts
Just like Canva, Google Charts is another great tool for creating and sharing infographics. Unlike Canva, you can create and share interactive infographic content on your website thanks to Google Charts. This completely free infographic builder is highly customizable.
kartograph
This free map-based tool is used to build interactive and visual maps without the need to connect third-party mapping services.
With a plethora of map types available, it's easy to present and share geographic data presentations, especially with the Kartograph library feature and JavaScript tools.
Best practices for creating infographics
Get fully acquainted with your target audience. Tone of voice is important at this point, as you want to be careful to use designs that are pleasing to the eye in a way that viewers can connect with.
Originality is king: there are tons of content in cyberspace to make your infographic unique to you and your brand.
Organization is king: present your information in an orderly way, with the most important things at the top. Engage the reader and make sure to minimize clutter. Above all, stick to your main topic.
Color is also important: colors can help you communicate concepts, and can direct the reader to the most important data or text.
Find a good balance between visuals and text. Use icons, illustrations, or images to replace headlines and break up blocks of text. Use different types of fonts to ensure a good layout.
Consider using interactive elements. Today, the most popular infographics attract the attention of readers thanks to interactive and animated features. It may be a bit harder from a technical point of view, but the extra effort is worth it.
Mistakes to avoid when creating an infographic
Although there are no quick shortcuts when it comes to designing infographics, there are a few things to consider. Your infographic will not be as impactful or effective if:
It looks the same as all the others: online content is unforgettably viewable, it's just too risky to copy someone else's work.
It's poorly designed: mismatched colors or unreadable fonts will make your infographic less appealing.
There is too much text or it is too long: always remember that the text you provide is there to stand out and support the visual elements. Make it relevant and succinct.
Content is watered down: Too much information makes a carefully edited infographic less effective. Make sure you've included the most important information your readers need to know.
The information is incorrect: Your content not only needs to be accurate, you also need to cite it properly. When presenting data or facts, be sure to include the sources somewhere in your infographic.
How to promote your infographic
Once complete, make sure all loose ends are tied up by sizing the infographic correctly so it will display correctly. It's okay if your infographic is larger or higher quality, it's helpful for readers who want to zoom in on your infographic to read the text or view the data.
Make a high-resolution image of the infographic available via a link that can be shared for reading. When it comes to social sharing, define your audience and include the infographic where it generates the most interest.
The goal is always to go viral, but settling for strong interest as a realistic goal always works. Don't forget to use Semrush's social media toolkit to track your social media promotion.
Specific posts, blogs and influencers who share an interest in your topic are important, product or service can also be vital channels to share promoting your content.
Examples of high-quality infographics
We can say that there are thousands of companies around the world that use this resource to promote their content and present ideas to their target audience. However, we want to introduce you to 3 entities that have been able to create infographics that have positioned themselves in the Spanish-speaking world.
Pictoline
If you live in Latin America, and you use social networks, surely you have already come across an infographic from Pictoline. It is an illustration company that produces infographics on various topics of interest. In their productions they have been able to express the main ideas and, at the same time, mention the data sources and concepts presented.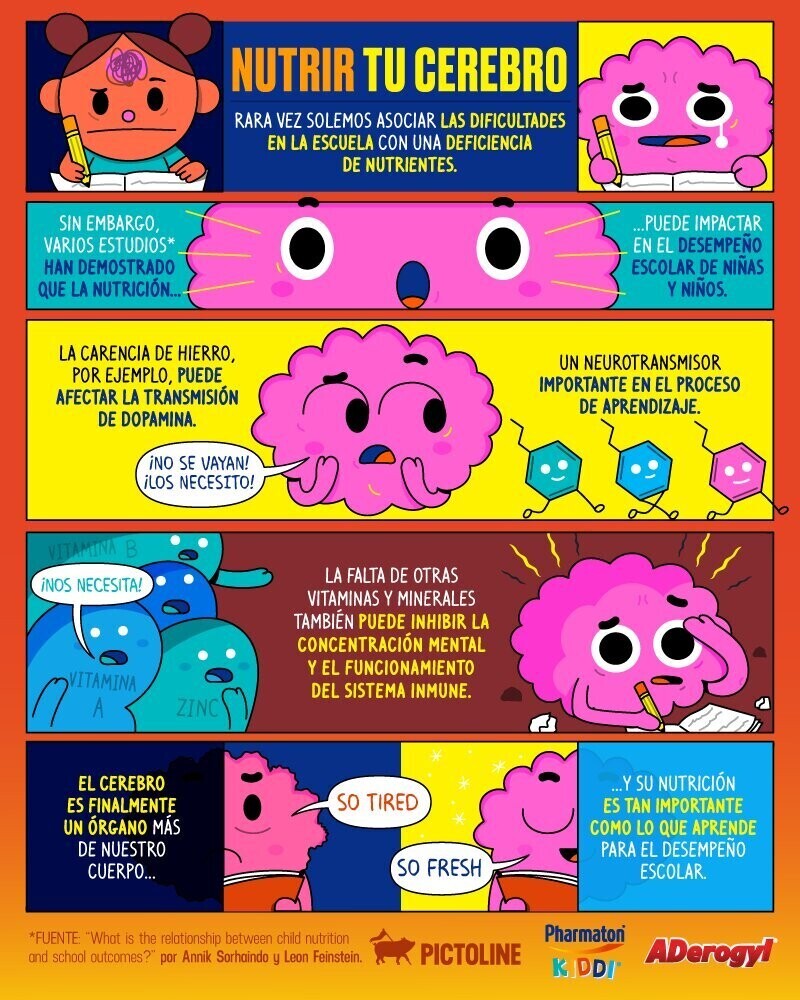 relax coconut
It is a Spanish agency that has created infographics for large companies such as BBVA, Phillip Morris, Guillermo del Toro, etc. The creativity applied according to the identity of each company is simply phenomenal. And every piece of content they create stands out from the rest.
Semrush Infographics
If you are a digital marketing professional, it is very likely that you have already seen an infographic from Semrush with SEO tips, content marketing, etc. We try to place practical advice in an image that will improve the results of your campaigns.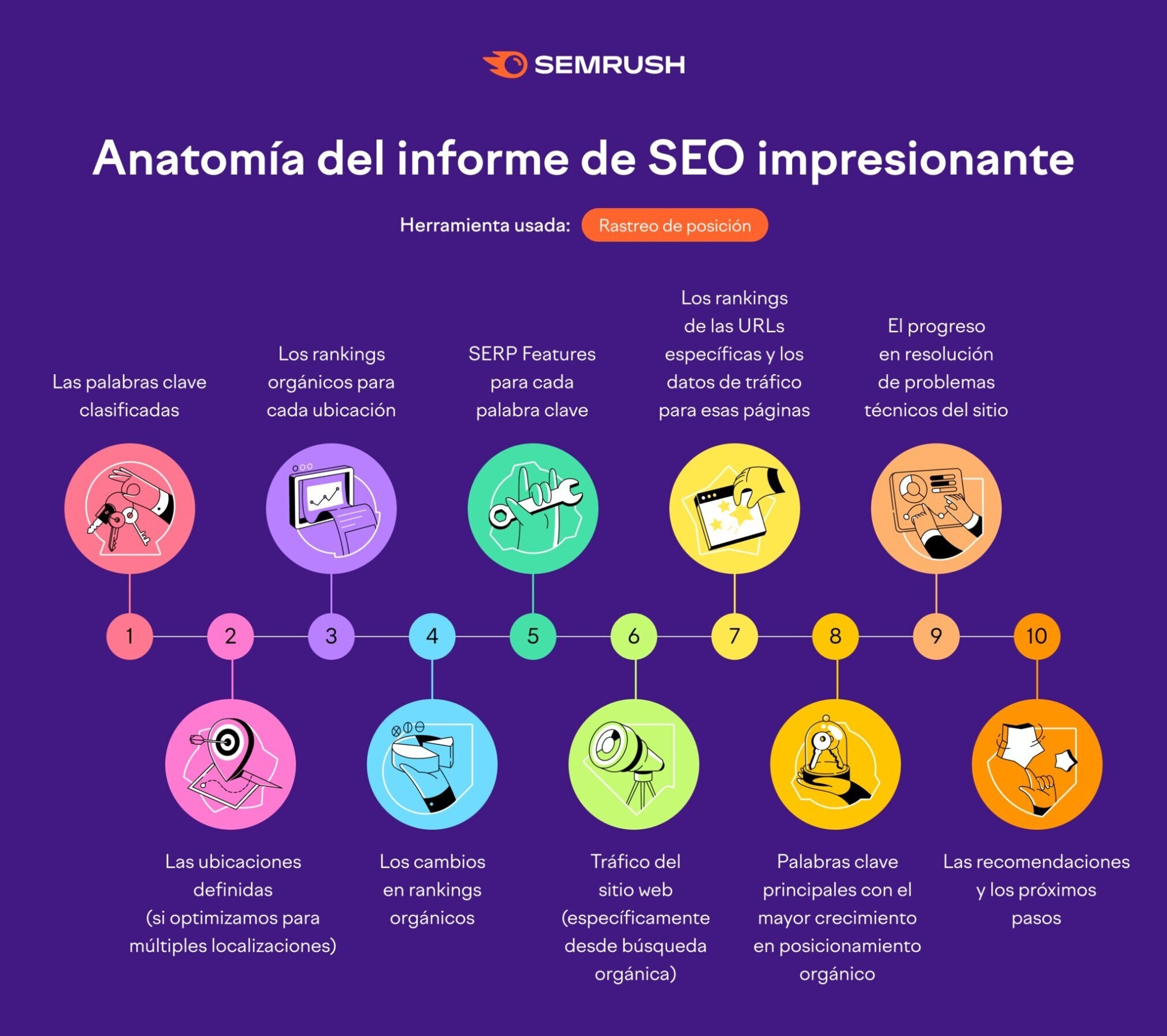 keys to go
Infographics still have an important role to play in making your message resonate. They are popular and effective because they work.
Advances in animation and interactive elements have taken these production pieces to new heights. This field is constantly evolving, so we can say that infographics will continue to be published, developed and shared.
It is possible to convert your creativity into likes and traffic , and into credibility for readers who are looking for accurate and useful information.
Don't be afraid to experiment with the types of infographics, layouts, and promotion. Over time, you'll learn how to best present the data your audience needs in the format they enjoy the most.
Remember: that your pieces are unique in content and design.

Source: SEMrush blog